Personal insight
Fill in a simple form to get free, personalised figures and examples designed to help you understand your options for taking your retirement income. You can explore your options online directly on the hub or download a personalised PDF. You can also use the drawdown modeller and find out more about potential pitfalls to be mindful of.
Go to the Pension Potential hub, fill in the form and select Personal insight
Tailored insight
Interested in a guaranteed income (annuity)? Use our Pension Potential annuity finder to generate tailored, personalised quotes and buy your annuity – all in one place. It will search all the annuity providers on the market to get the best-value quotes for you.
Go to the Pension Potential hub, fill in the form and select Tailored insight
Expert insight
Get an appointment with one of our friendly retirement experts by booking a call. There are three options for talking to an expert.
Discuss your personalised retirement options. This can include exploring whether you might need financial advice (see Want to take it further? below).
Help with the annuity finder.
Help with buying your annuity.
Go to the Pension Potential hub, fill in the form and select Expert insight
Want to take it
further?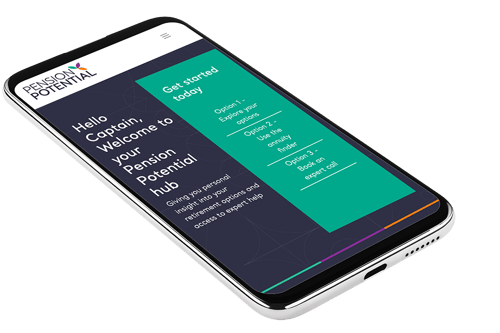 You have access to regulated financial advice, with competitive charges, from our highly-qualified financial planners.
Go to the Pension Potential hub, fill in the form and select Expert Insight for a call to discuss your options, free of charge
Guidance
and regulated financial advice – what's the difference?
Pension Potential offers guidance. It's intended to help you understand your retirement options, but it won't make specific recommendations or tell you what you should do.
Personal insight gives you a personalised overview of the options available to you to help you understand them, but won't recommend which option would be best for you.
Tailored insight enables you to search the market and buy an annuity using the annuity finder. Any fees will be paid by commission from the annuity provider.
Expert insight gives you access to experts who can offer help and guidance, but won't be able to recommend specific options unless you decide to take, and pay for, regulated financial advice.
You may need regulated financial advice if you're interested in more complicated retirement options such as flexible income (drawdown), or mixing two or more retirement options.
You'll need to pay for financial advice as it's a regulated professional service that will take your situation into account and make recommendations for options and products.
Are you ready to
maximise
your pension potential?
Check out our other
EasyFacts