We're the
experts
Here at Pension Potential, we're experts on the pension freedoms. We're here to help you not just understand, but get the best from, those savings you've worked so hard to build up.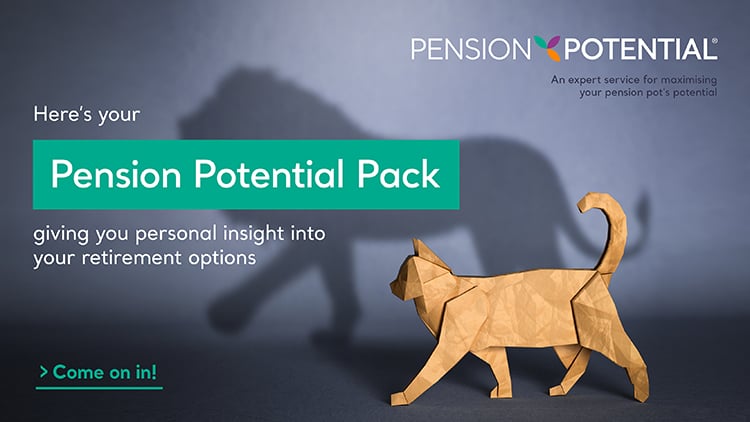 Your FREE Pack
But first … a
warning
If you're looking at options for taking your benefits, this could make you more vulnerable to pension scammers who will try and get you to transfer your pension savings to them. They may promise high returns and 'unmissable' opportunities – but don't be fooled. Check out the
ScamSmart
website to understand the warning signs and keep your savings safe.
Tax-free
potential
All these retirement income choices come with optional tax-free cash – normally up to a quarter of your pension pot. Better still, this tax-free cash doesn't affect your personal income tax allowance (the amount of income you can have before starting to pay tax). The standard personal income tax allowance is currently £12,570 a year.
But – think about your long-term needs.
Tax-free cash is
optional
. You don't have to take it – it's simply a choice that's available. If you do take it, remember your remaining retirement income will be smaller.
What kind of
pension?
It's important to understand that the flexible options we're talking about here are only available for defined contribution (DC) pensions (that build up from contributions and investment). They don't apply to defined benefit (DB) pensions (sometimes called final salary pensions), that promise you a set level of yearly pension income based on:

part of your salary, and

how long you built up benefits in the scheme.


But this isn't a bad thing, because DB pensions are valuable in their own right. They offer a regular income, for the rest of your life, that usually increases over time.
We can help you
maximise
your potential
Pension Potential offers expert guidance and lots of support to help you understand more about your retirement options.
We don't offer financial advice through Pension Potential. But, if you decide you need financial advice, we can refer you to our expert financial planners who offer this service.
Guidance
Guidance is intended to help you understand your retirement options. It won't make specific recommendations or tell you what you should do.
Personal insight gives you a personalised overview of the options available to you, but won't recommend which option would be best for you.
Tailored insight enables you to use our annuity finder to search the market and buy an annuity. Any fees will be paid by commission from the annuity provider.
Expert insight offers the option of talking to an expert who will give you help and guidance, but won't be able to recommend specific options unless you decide to take, and pay for, financial advice. They can discuss this with you.
Financial advice
Financial advice is a regulated professional service that will take your situation into account and make recommendations for options and products.
You may need financial advice if you're interested in more complicated retirement options such as flexible income (drawdown), or mixing two or more retirement options.
You'll need to pay for financial advice. We offer financial advice from highly-qualified chartered financial planners, with competitive charges.
We'll always tell you in advance if there's a charge for any guidance or advice you take from us.
Are you ready to
maximise
your pension potential?
Check out our other
EasyFacts