Could
mixing
and matching be right for you?
There could be lots of ways to mix and match your retirement income options. For example, you could:
take tax-free cash, take flexible income for some years and then buy an annuity in later life
buy an annuity with some of your pension pot and take the rest as flexible income, or
take some cash, leave the rest of your pot untouched for a while, then buy an annuity or take flexible income.
These are just examples. It all depends on you, your personal circumstances and how much you've got in your pension pot.
As a reminder, check out our EasyFacts pages on:
Now, let's take a good look at
mixing and matching
your options
Good
things about mixing and matching
1. Completely tailored to you

You can have a retirement income that fits you and your circumstances.

3. You might feel like it gives you more protection

If you're a cautious kind of person, you might be happier with a 'blended' retirement income that balances:

the potential investment growth you might get by investing your money and taking flexible income, with
more protection for your money as you get older (from a guaranteed income, for example).
Not-so-good
things about mixing and matching
1. It only really works for bigger pension pots

If you've got a few smaller pension pots, you might think about bringing them together (known as 'consolidation') to give you a bigger pot to play with. But it's worth checking first if any of your pensions have guarantees you'd lose if you transfer them out. MoneyHelper has guides to transferring

defined benefit

pensions and

defined contribution

pensions.

2. It can get complicated

There's more to manage and consider for you and your loved ones including:

income tax implications
measuring benefits against the pension tax allowances, and
minimising inheritance tax.

There might be several sets of charges involved from different providers and you'll almost certainly need to take financial advice. Fortunately, we can help with that.
We can help you
maximise
your potential
Pension Potential offers expert guidance and lots of support to help you understand more about your retirement options.
We don't offer financial advice through Pension Potential. But, if you decide you need financial advice, we can refer you to our expert financial planners who offer this service.
Guidance
Guidance is intended to help you understand your retirement options. It won't make specific recommendations or tell you what you should do.
Personal insight gives you a personalised overview of the options available to you, but won't recommend which option would be best for you.
Tailored insight enables you to use our annuity finder to search the market and buy an annuity. Any fees will be paid by commission from the annuity provider.
Expert insight offers the option of talking to an expert who will give you help and guidance, but won't be able to recommend specific options unless you decide to take, and pay for, financial advice. They can discuss this with you.
Financial advice
Financial advice is a regulated professional service that will take your situation into account and make recommendations for options and products.
You may need financial advice if you're interested in more complicated retirement options such as flexible income (drawdown), or mixing two or more retirement options.
You'll need to pay for financial advice. We offer financial advice from highly-qualified chartered financial planners, with competitive charges.
We'll always tell you in advance if there's a charge for any guidance or advice you take from us.
Help with
options
you might not think of
Here at Pension Potential, we're experts on the pension freedoms. We're familiar with all the freedoms and how they work. Depending on your situation, we might be able to suggest combining them in ways you hadn't thought of.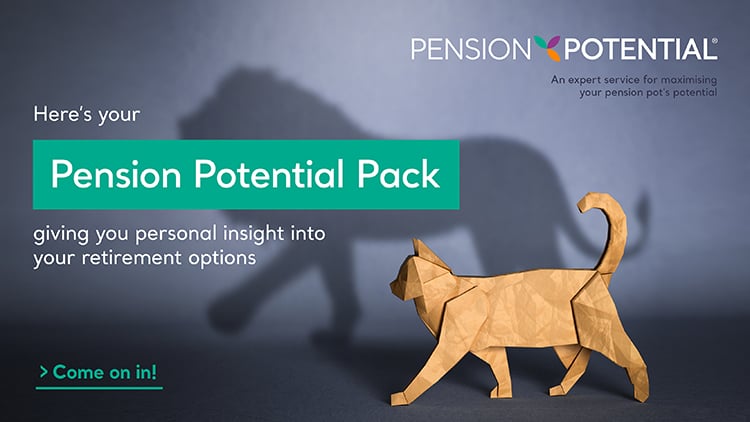 Your FREE Pack
Are you ready to
maximise
your pension potential?
Check out our other
EasyFacts